May 1st is International Workers' Day also known as May Day.
May Day has traditionally served to celebrate the contributions of working people and raise the voices of immigrant communities. This year, it will also serve to further motivate, educate, and activate workers, and supporters. It will serve to fight regressive politics in our power institutions.
Let's gear up to honor & celebrate May Day 2017: International Workers' Day! Find an action near you:
Southern California
Los Angeles
The march will start at MacArthur Park, west of Downtown Los Angeles, at 11 a.m. and conclude in front of City Hall with a rally. For more information visit:  http://ufcw770.org/Resist
Orange County
Join the Orange County Labor Federation on International Worker's Day for a march and rally. Stand UNITED with your union brothers and sisters as we continue to fight for equality, fairness, respect and dignity for all workers.
Event Schedule:
11 AM  MARCH & RALLY
(Meet at St. Boniface Catholic Church – 120 N Janss St, Anaheim, CA 92805)
12 PM – 4 PM INFORMATIONAL FAIR
(Pearson Park)
For more information, call 714.385.1534
https://ufcw324.org/may-day-event/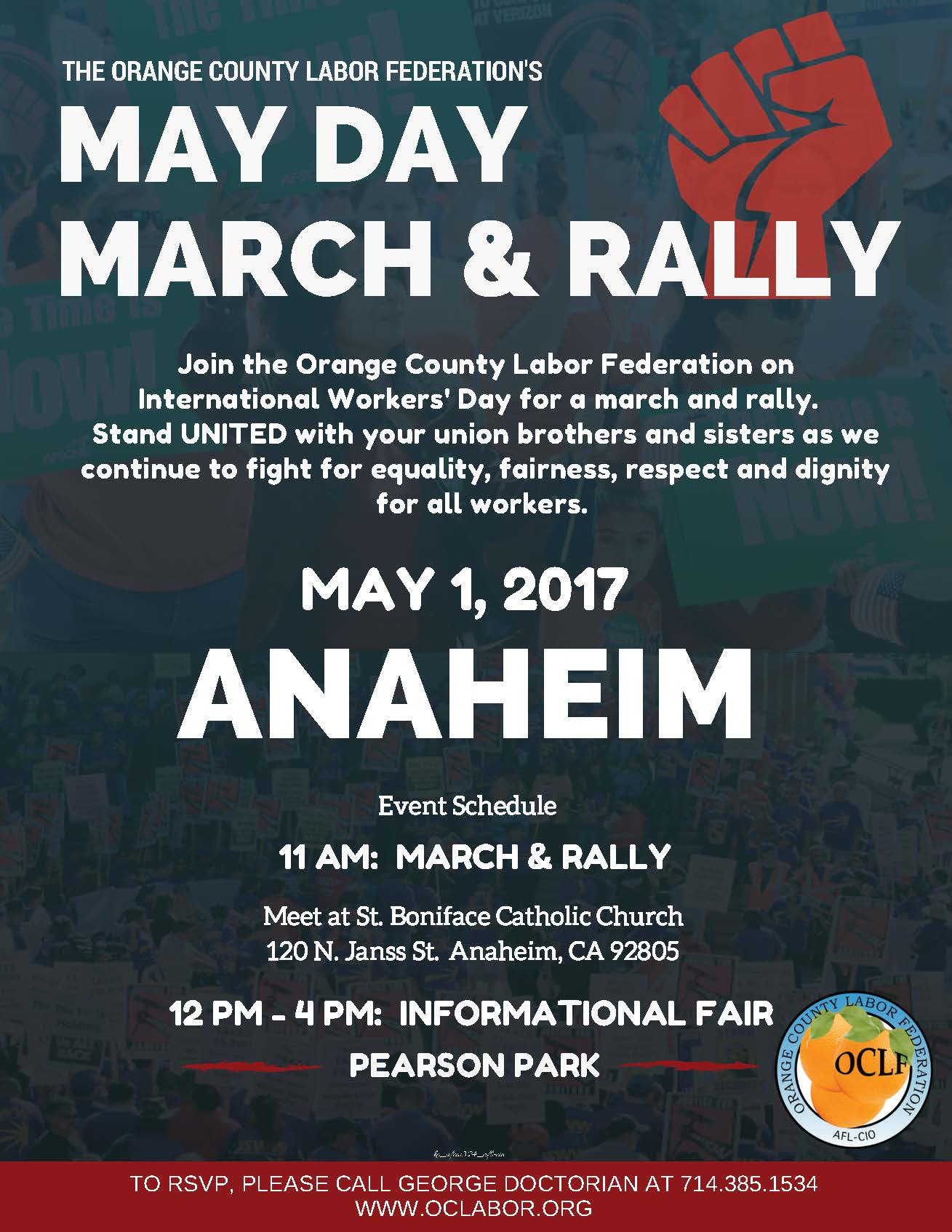 San Diego Workers and Community Resist!/Trabajadores y Communidad Resisten!
May 1 @ 3:00 pm
Union del Barrio, SEIU-USWW workers, and the Justice Can't Coalition alongside several community organizations and labor unions are planning a large-scale rally and march that will start at the Federal Building in downtown San Diego and commence in Chicano Park.  Students, Immigrants, Workers, and Communities will unite in this day without ALL of US!
This is a call to all working people and communities/Este Un llamada para toda la gente trabajadora y todos las comunidades: Join in the streets/Unase a nosotros en las calles!
Date: May 1
Time: 3:00 pm – 9:00 pm
Venue
Federal Building
880 Front St.
San Diego, CA 92101
Northern California
May Day San Francisco
Monday, MAY 1, 2017
Join the Rally @ Justin Herman Plaza @ 11 AM then March on Market St. to Civic Center Plaza.
https://www.facebook.com/adaywithoutimmigrantssf/
Oakland: International Workers' Day General Strike and March
March begins at 3 pm at Fruitvale Plaza, Ends at San Antonio Park
Fruitvale Plaza Address:
3526 San Leandro St
Oakland, CA 94601
San Jose: South Bay May Day
Join thousands of workers across the country and the world as we take to the streets to SHUT IT DOWN! No Work! No School! No Shopping!
San Jose will march from the Mexican Heritage Plaza/School of Arts and Culture to the Arena Gardens (Santa Clara St./ Autumn St.) along Alum Rock Ave./Santa Clara St.
Program begins at 1:00
Marching at 3:00
Sacramento: May Day International Workers' Day March
Join workers and activists on May 1st to march for International Workers' Day! The march will begin at 10 am at South Side Park and end with a rally at the West Steps of the Capitol. Email [email protected] for more information.
Salinas May Day March
Time:
10:00 am – 12:00 pm
Location:
Cesar Chavez Park
250 N. Madeira Ave
Salinas, CA 93905